We understand if you have reservations about your son joining a fraternity at Northwestern. Joining a fraternity is a big decision for the whole family, not just your child. We are confident that, as a Northwestern student, your son will excel in a professional field after graduation, whether or not he joins a fraternity. Lambda Chi Alpha will provide your son an edge by teaching him additional tools and life skills that he won't get in the classroom.
Since our founding in 1917, Lambda Chi Alpha has been an integral component of the university. For more than a century, Lambda Chi Alpha has been the home away from home for over 1500 Brothers. Our commitment to campus outreach and community involvement are vital components of our core values as a co-curricular fraternity. Being an active Brother of Lambda Chi Alpha can provide your son with vital leadership experience and interpersonal skills that are not taught in the classroom. All members of Lambda Chi Alpha are expected to pursue and maintain a high degree of scholastic performances. Your son can seek guidance and tutoring from older brothers in our fraternity who are familiar with the courses and instructors.
As a member of Lambda Chi Alpha, your son will be immediately connected to a diverse network of brothers. Throughout the year, we host a number of events with alumni at which we invite Associate Members and Active Members to get to know one another and form their own connections. This network will provide chances for career, community engagement, and educational opportunities. Recruiters understand that a man's fraternity experience prepares men for success. While only accounting for 2% of the American population, fraternities have produced 80% of Fortune 500 CEOs, 76 percent of U.S. senators and congressmen, 85 percent of Supreme Court justices, and all but two presidents since 1825.
Most importantly, your son will be treated with dignity as he pursues membership in our Fraternity. The Associate Member Program at Lambda Chi Alpha follows our motto, Vir Quisque Vir, which means "Every Man a Man" or "No Man Shall Be Treated Less Than He Is." Lambda Chi Alpha abolished stereotypical notions of "pledging" and hazing in the 1970s, and they have no place in our Fraternity. At Lambda Chi Alpha, "associates" are always treated with dignity and respect. All Associate Members have the same rights as fully initiated brothers, with the exception of voting on candidates for initiation and serving as our chapter ritualist.
Lambda Chi Alpha Parents Guide
Summary of Membership Obligations
The Cross and Crescent Magazine
The Cross & Crescent Magazine is a quarterly print and online publication that reinforces the bonds and values of our brotherhood by ​sharing news from our brothers, stories from our chapters, and progress from our educational foundation.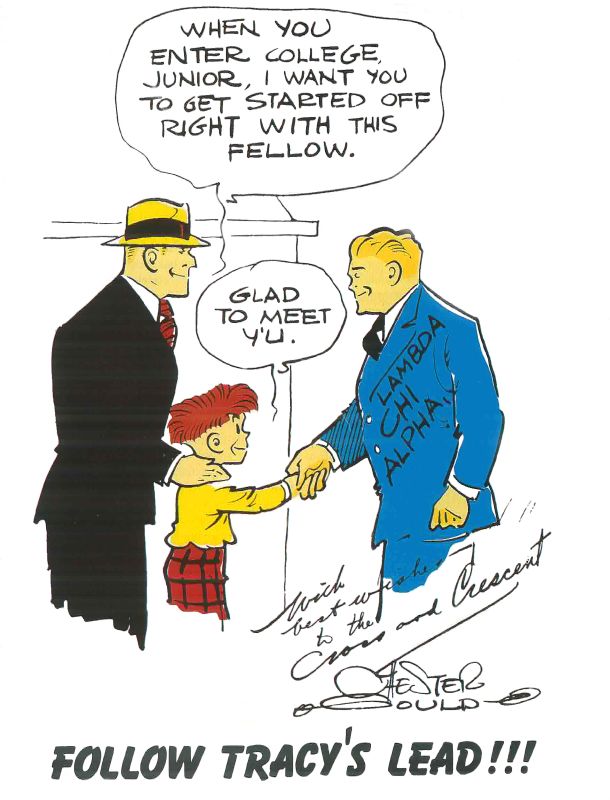 Fraternity & Sorority Life

at Northwestern

Family Weekend 2023
Family Weekend will take place on Northwestern's campus October 20 – 22. Family Weekend Registration will open at the end of August.
We'd also invite our family members to volunteer at our events and to follow us on social media!